Let's welcome the new policy of quarantine-free travel this October! Singapore is opening borders for more international travel for fully vaccinated people. Be cautious with the Covid-19 virus around us, but don't let it fill us with fear. Embrace the new normal by listing the things to do in Singapore. If you haven't made any plans this October, we're going to help you explore places to go in Singapore with your friends and family.
1. SGF Hort Show 

If you've been questioning the things to do in Singapore on weekends, and if you are into nature and plants, Singapore Garden Festival (SGF) offers you great excitement. The Singapore Hort Show is available online and offline. It takes place at Singapore Botanic Gardens and Jurong Lake Gardens will run from 9 to 31 October 2021. 
The event at Singapore Botanic Gardens takes place from 9 to 17 October 2021. The Horticultural Competition is held from 9 to 13 October 2021 and displayed from 14 to 17 October 2021. In addition, there is also an Orchid Competition that runs from 9 to 17 October 2021, and all the displays will surely amaze you, all the plantsmen. 
The events at Jurong Lake Gardens run from 23 to 31 October 2021 with other exciting competitions, exhibitions, and activities. One of them is the Balcony Gardens Competition that will spoil your eyes and tempt you to make your own garden on the balcony. Also, you can introduce various plants to your babies. 
More info: https://www.nparks.gov.sg/singaporegardenfestival/sgf-hort-show/show-info
2. Bukit Gombak Park
Besides the SGF Hort Show, if  breathing fresh air and being surrounded by nature is something you enjoy, Bukit Gombak Park is one of the best places to go in Singapore. Located on a hill and surrounded by trees and grass dominated by green, your eyes will be spoiled with fresh and relaxing views. The vast area allows your children to explore. In addition, you can bring along your dogs to jog with you and your children. 
Address: Bukit Batok West Ave 5
Nearest MRT Station: Bukit Gombak Station
3. Glamping at ORTO Kampung Kampus
If you and your family feel tired with the busy city of Singapore, you can try glamping at ORTO Kampung Kampus. While escaping the hustle and bustle of the city, you can enjoy the beauty of nature but still with luxurious and comfortable facilities. 
Address: 91 Lor Chencharu, Singapore 769201
Nearest MRT Station: Khatib Station
Find out more: https://www.kkday.com/en-sg/product/104737-kampung-kampus-luxury-glamping-singapore
4. SuperSpook 2021
It's October, so what does it mean?! Halloween! Celebrate Halloween with your loved ones by visiting SuperSpook 2021 at SuperPark Singapore, one of the best places to go in Singapore during the spooky season. Enjoy the spookiness within the three intense scare zones: Devil's Bend, Haunted Playground, and Horror Maze. SuperSpook 2021 takes place at night on Fridays, Saturdays, and Sundays, 22nd, 23rd, 24th and 29th, 30th, 31st October 2021. 
Although you are here to celebrate Halloween, you are not allowed to wear costumes, for the safety of all the parties involved. However, the SuperSpook will still give you the thrill of Halloween with all the Halloween mood. In addition, you can bring your 13-year-old or older kids here. 
Address: 3 Temasek Boulevard, Suntec City Mall, #02-477 (North Wing)
Nearest MRT Station: City Hall/ Esplanade / Promenade
Find out more: https://www.superpark.com.sg/events-halloween/
5. Tricks or Thrills at the Universal Studios Singapore
Another place you can go to celebrate Halloween is Universal Studios! Bring your kids along, and decide what costumes you will wear, for you will have a chance to win the best costume here. You still have enough time to prepare your best costume, for it will last until November, 7th 2021. 
Also, come and prepare your camera for our wonderful meet and greet with your favorites from Despicable Me, Sesame Workshop's Sesame Street, and DreamWorks Animation's Trolls. However, if you expect a more spooky vibe, challenge yourself and come to our Halloween Horror Nights Exhibition that has been launched on September, 10th. 
Come and welcome other fun and thrilling activities!
Address: 8 Sentosa Gateway, 098269
Nearest MRT Station: Harbourfront
Find out more: https://www.rwsentosa.com/en/attractions/universal-studios-singapore/promotions-and-events/trick-or-thrills
6. Life in Edo | Russel Wong in Kyoto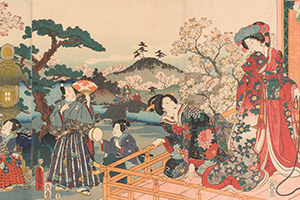 Thinking about introducing your children to cultural diversity through foreign cultures? One of the beautiful places to go in Singapore is the exhibition Life in Edo | Russel Wong in Kyoto. The works of Kobe Shimbun and Russel Wong showcased in the exhibition at the Asian Civilisation Museum portray Japanese culture and craftsmanship. 
There are two parts to this exhibition. Each part tells you stories from the different time periods and aspects of life in Japan. If you come during weekends or public holidays, expect to have a one-hour time slot due to the Covid-19 situation. 
Address: 1 Empress Pl, Singapore 179555
Nearest MRT Station: Raffles Place
Find out more: https://www.nhb.gov.sg/acm/whats-on/exhibitions/life-in-edo-russel-wong-in-kyoto
7. Joo Chiat Neighbourhood
Explore the Peranakan culture at Joo Chiat Neighbourhood, one of the most iconic places to go in Singapore. Here, you will enjoy the mix of exotic traditions and lively modernity. Visit exciting shops and cafes, and enjoy the unique buildings. Rumah Bebe is one of the abundant destinations you can visit when you are exploring Joo Chiat Neighbourhood. The heritage site will give you a view of Peranakan style with the kebaya and also craftsmanship. 
8. Literary Trail: The Curious Adventure of the Salaryman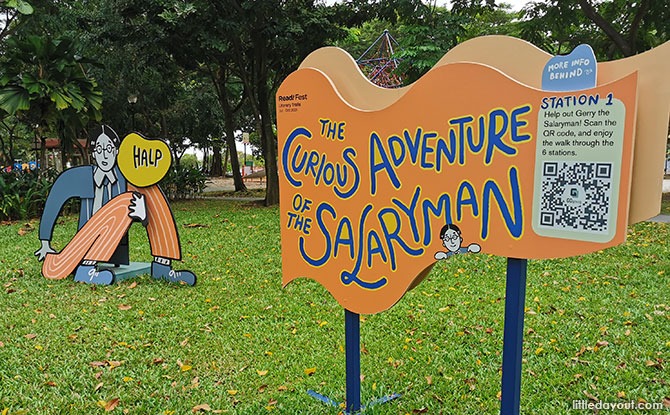 Literary Trail offers you fun kids' activities in Singapore. It is located in the East Coast Park, West Coast Park, and National Library Building. Simply bring your mobile phone, you and your kids will have an amazing adventure here. You will see colourful installations around the area, and what you need to do is scan the QR code. 
It will lead you to an adventure of a salaryman named Gerry. Gerry is the character who will drag you to a wonderful adventure and tell you amazing stories with a very interactive chat. Enjoy the quest with colourful installations, cool graphics, and awesome animation. 
Find out more about the trail here: https://www.nationalreadingmovement.sg/readfest/littrails
The question is not what to do in Singapore, instead, it is: what to do first? There are a bunch of places to go in Singapore where you can have a fun time with your family. If you like nature, parks offer you a relaxing and refreshing choice. If you like adventure, you can go to some place which offers you some challenging and exciting quests. If you want to celebrate Halloween, many places are available for you.
If you bring a baby, toddler, or older kids with you, you need to prepare extra stuff. In this case, a stroller is probably one of the most important things that will help you. Whether it is a full-sized stroller or a compact one, it can help both you and your baby to feel more comfortable during the fun yet tiring journey. 
Travel bag is another thing that you might need to bring during your vacation time with family. If you need to complete the baby stuff, you can visit welovesupermom.com to see the prices and deals comparison from different online stores. Make sure that you have everything you need for you and your baby and enjoy the trip with your family.