If you're looking for the easiest way to keep your baby close by, a play yard should be at the top of your list. These portable enclosures are not only convenient—allowing baby to have a safe space to play no matter where you go—they're also versatile and can grow with your child.
Play yards come in a variety of styles, but ultimately all serve the same purpose: providing an area for your child to safely play or sleep without getting into things they shouldn't. The most basic models offer an open-air design without any additional features, while more expensive styles may include extra features like bassinets and diaper changing stations, as well as more padding around the sides for added comfort.
Like most baby gear, choosing the right play yard can be overwhelming. There are so many options available, you could spend hours researching them all. But don't worry mommies and daddies, we've rounded up a list of the best play yards in Singapore, so you can find the perfect one for your family. Read on for our top four picks for best play yards and our buying guide on how to choose the best play yard in Singapore.
How to Choose the Best Play Yard?
A play yard is a great way to keep your little one safe while they play. They are perfect for use inside or outside, and they come in a variety of sizes to fit your needs. There are many different types of play yards on the market, so it is important to do your research before you buy one. Here are some things to keep in mind when you are shopping for a play yard:
Materials
One of the key things to note for safety prior to buying a play yard for your kids is the material – we highly recommend opting for safe and non-toxic materials, such as baby-safe paints, or plastic as little children may end up licking or biting parts of the play yard.
In addition, play yards generally come in four types of materials: plastic, fabric metal, wooden. In Singapore, plastic play yards are widely favored as they tend to be lightweight, allowing parents to keep and carry easily. Plus, they often come in vibrant colors that attracts the attention of the little ones. Fabric play yards are also often preferred as they are softer, thus minimize the risk of injuries when kids fall. 
Door Panel 
At the infancy and toddler stage,  have a high desire to explore. When you put your children into a play yard, they might want to try to go out and explore the space outside the playyard. When you have time to watch over your children, this might not be a big problem, but when you have to do another activity, this will put you in a difficult situation. Make sure your playyard has a well-secured door panel so that they won't get out of the space that you have designed to be safe for them. 
Safety Features
Make sure that the play yard has safety features such as lockable wheels and sides that can be locked in place when closed. Also make sure there is enough room for your child to move around without hitting their head on anything. Some play yards have mesh screens or other features that keep your child's fingers from getting pinched or hurt during use. A well-designed play yard will have rounded edges so that there are no sharp corners where your child could get hurt.
Size
Size is another important thing to consider before buying a play yard. Aside from thinking about whether the play yard is spacious enough for the kids, you also need to consider the space you have at home. In addition, think about the height. Commonly, play yards have 60 cm height, but some may be lower or taller.
If you plan on using it as a napping area, consider getting one that is larger than a standard crib. If you have several children, you may want to purchase an extra-large or two-story play yard. You will also want to consider the portability of the play yard since some are easier to move than others. 
Added Features
Play yards today come with various features and accessories. For example, some can be easily folded while others have wheels attached so they can be quickly moved from one room to another. You may also find some with changing tables and bassinets, which are very useful especially in the first few months after your baby is born.
Travel friendly
If you're planning on using your play yard primarily for travel, look for one that folds up easily and has its own travel bag. We also like playards with wheels for added convenience.
Best Play Yards in Singapore
Here are a few of the best play yards available in Singapore:
Nihon Ikuji 4 Panels Premium Musical Play Yard
A good night's sleep is an essential ingredient for a healthy and happy baby, but sometimes it can be hard to find a safe, comfy environment where your baby can doze off in peace. Fortunately, with so many modern play yards on the market nowadays, it's easier than ever to create a soothing sleep space for your little one. The Nihon Ikuji 4 Panels Premium Musical is a great option for parents looking for a simple and reliable place for their child to relax and rest. It's designed with safety in mind, and you'll love the fact that this play yard gives you peace of mind as well as plenty of extra time to spend on other things.
This play yard offers plenty of space for your child to stretch out comfortably, along with four non-slip feet that keep the entire structure stable and safe. It is equipped with double locks that prevent your child from opening the gate accidentally. These locks also give you greater peace of mind when you need to step away from the play yard. The sides of this play yard are padded, so your child will stay comfortable while they're playing or resting. The material is breathable, so there's no risk of overheating—even during warm summer afternoons. Designed and engineered in Japan, it has won several awards thus trusted by many! As the name suggests, this playyard will play songs for your babies with 24 world musical lullabies. 
Features
 Japanese patented connecting mechanism to prevent any dislodgement of panels or connectors by a child.
Excellent protection to prevent items from being scratched and damaged in the factory and during transportation.
Two high quality 3M rubber paddings at the bottom of each panel and connector to prevent skidding.
Musical toy panel consists of 6 different activities and can play as many as 24 musical world lullabies (with 3 modes, 3 x AA batteries included).
Easy to use and child-proof "Triple Safe" door locking system with 3 latches, 2 at the top part and 1 at the bottom part of the gate.
Can be converted with some accessories into a kids partition, which is a free-standing partition and safety gate.
Comes with an optional highest quality, non-toxic, European-grade EVA mat that fits nicely within the yard.
Pros and Cons
Pros
Easy to assemble and disassemble
The height of the walls is good enough to keep your child inside without being too high that you can't reach over it if necessary
The music box is a nice feature for children who need something to soothe them or keep their attention
Can be expanded to a bigger play yard with or without exact-fit play mat (sold separately)
High quality mats cushion the babies if they fall and stop the yard from shifting even if the babies push it
Extremely safe for your little ones with its child-proof "Triple Safe" door locking system
Multi-usage musical toy panel allow babies to engage in educational, enrichment and development activities.
Cons
The Nihon Ikuji 4 Panels Premium Musical Play Yard is quite heavy, so if you have to move it around much you might find it difficult. It is also pretty tall, so you need to make sure that the area you put it in has plenty of room above it.
Nihon Ikuji 4 Panels Premium Musical Play Yard: Reviews from Parents
"This is the best toy that was ever invented!!! As a mom to an incredibly active baby, this toy is a life saver. I've never loved any of my baby's toys as much! The Nihon Ikuji Play Yard entertains and keeps him out of trouble."  – Soph, mom of one


"The musical play panel helps to improve my baby girl's attention span, memory, motor skills, visual activity, sense of self and nervous system development." – Gordan, father of four


"Would definitely recommend this play yard to other mommies!If not for the exact fit mat and their quality foam, my little girl would have had bruises everywhere!" – Gemma, mom of two
But it at its lowest price here.
Lucky Baby® Smart System™ Foldable Safety Play Yard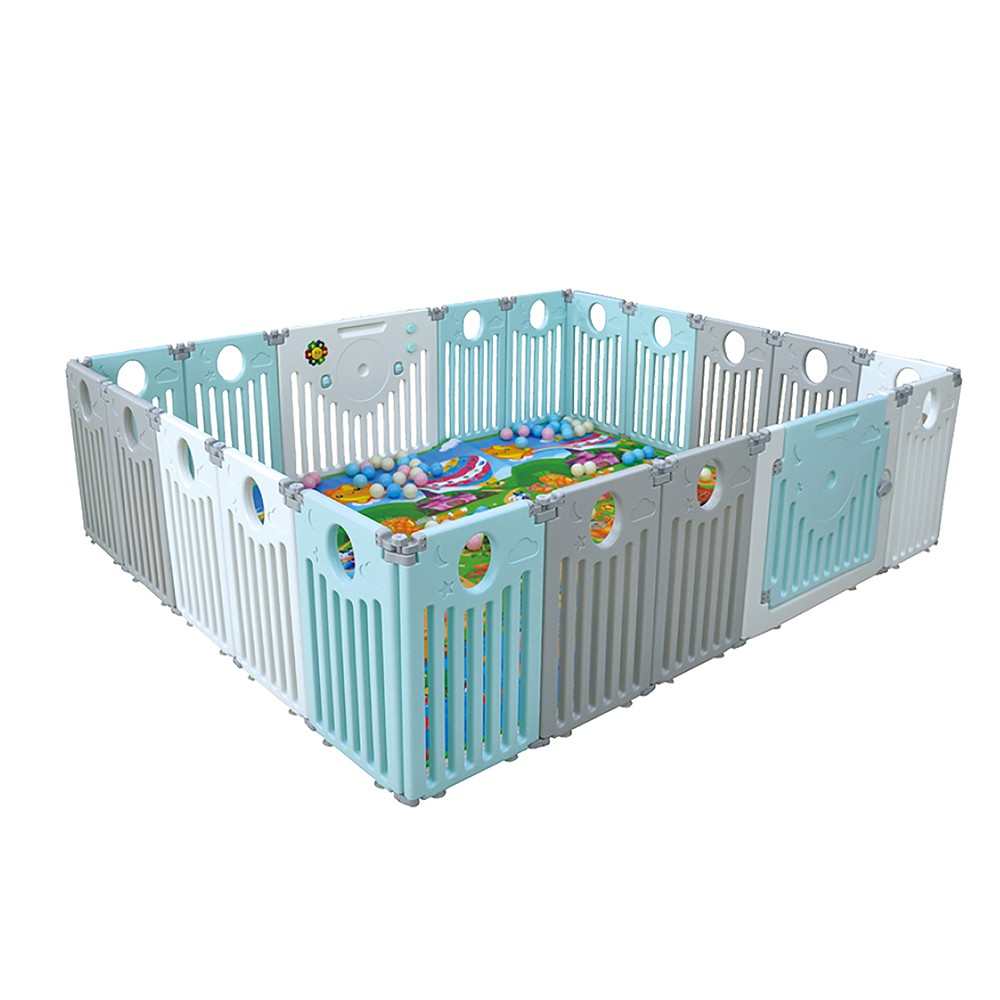 Doing chores while supervising your babies might drive you crazy. However, if you with the Lucky Baby® Smart System™ in your house, you can do your jobs more smoothly. You can put this lightweight play yard anywhere in the house and let your baby play while you run other activities. 
If the thought of assembling baby gear gives you nightmares, rest assured that this play yard is super simple to assemble (and disassemble). The frame is already assembled—all you have to do is unfold it and click in the sides. And if you need to take it down, just reverse the process! In addition, it offers your baby a musical activity station that will entertain them. Finish your jobs, and let this keep your baby in the safe zone with its safety lock and extra safety button. 
Learn more about how to fold your Lucky Baby Smart System Safety Play Yard.
Features
Keep your little one out of harm's way once they become mobile
Easy to assemble that are secure and strong for active toddlers, with no tools needed to assemble
Hinged door includes a safety lock and extra safety button to prevent little fingers from trying to open
Allow a range of set-ups from octagon, square, triangle, rectangle or more…
Lightweight panels for easy moving to another room
Keep toddlers occupied with the MUSICAL activity station

6 song / 3 story (In chinese-mandarin)

Each panel has an anti-slip suction cup to prevent slipping and scratching wooden or tiles floors
Add some colourful balls to turn it into an adventure ball pit BONUS 100pcs BALL
Foldable for easy storage in second
Pros and Cons 
Pros
Environmentally friendly and non-toxic plastic / Wipe clean material
Easy to assemble and fold up again
Tall enough to keep your child from climbing out
No sharp edges that could hurt your child
The most affordable play yard
Cons
It's not as lightweight as some other play yards, making it harder to carry around with you on trips away from home
No wheels, meaning this one won't come in handy if you want to move it around with your baby in it
Buy this at the best price here. 
RaaB™ Family Foldable Playpen Kids Play Yard
We want a safe environment for our kids to play and learn, which is why we need the right tools to provide them.
The RaaB™ Family Foldable Playpen Kids Play Yard is the perfect solution for little ones who love to play in their own space. This Play Yard provides a wide variety of experiences that are beneficial for your child's development, from learning how to walk and climb all the way up through toddlerhood. It's a great option if you want an indoor play area that will keep your baby entertained while you take care of other things at home.
The RaaB™ Family Foldable Playpen Kids Play Yard is designed with versatility in mind so that it can be used as either an outdoor or indoor playground depending on what your needs are. It features three different levels for kids to explore – ground level, upper level, and higher level – which means there's plenty of room for fun without having any worries about falling off when they're climbing up higher than usual (or down lower).
Features
 

Safety Material & Non-slip Design: RaaB baby fences are made of high-density polyethylene plastic and will not harm your baby's health. The non-slip rubber pad on the bottom of the panel makes it difficult to tip over and move. In addition, the package is equipped with extra suction cups that can be attached according to your needs. ASTM certification provides quality and safety.
Game Board & Safety Lock: The toy panel is not only interesting but also educational, which is very suitable for the baby. Lovely flower shape and bright colour can attract your baby's attention. The swivel design enhances the coordination of your baby's hands. Each connection is double-fixed, and there is no gap between the panels. Don't worry about your baby 's hands being caught. The safety lock on the outside of the door prevents the baby from opening the door and running out of the fence.
Foldable Design for Easy Movement: You can easily fold and move it to any ideal place, such as a bedroom, living room or balcony. In addition, the folded fence saves space and can be stored in the closet, under the bed and other places. This safe activity center allows you to do your housework or something else, while keeping a close eye on your baby.
Freely Combined into Various Shapes: Our children's fence has a total 8+2 Panel, 10+2 Panel, 12+2 Panel, 14+2 Panel, 16+2 Panel, 18+2 Panel and 20+2 Panel, you can combine multiple or all panels as needed. By increasing or decreasing the number of panels, you can combine them into squares, rectangles, hexagons or octagons to create different sizes of game space for your kids.
Large Coverage for Baby to Play: All 8+2 to 20+2 pieces of door pieces can be combined to provide enough spacious space for your baby. Your baby can climb or walk inside, which can help the baby learn to crawl or walk to a certain extent. And you can also enter the fence to play or rest with your baby.
You may add as many extension panels as needed to make an extra large play space for your baby.
Pros and Cons
Pros
The product is made out of high quality materials, which makes it durable enough to withstand constant use
It is easy to set up and take down
The product comes with a six-month warranty against defects in workmanship or material
Easy to clean (just wipe down with a damp cloth)
Great for indoor or outdoor use
Cons
No flooring (meaning you have to place this on top of another non-slip surface)
RaaB™ Family Foldable Playpen Kids Play Yard: Reviews from Parents
"The RaaB™ Family Foldable Playpen Kids Play Yard was very easy to set up and take down, which we appreciated since our kids have short attention spans and we wanted something they could play with right away. However, it is fairly heavy when assembled, so it may not be ideal if you don't have a good place to store it when not in use.

Our main complaint about this product is that the mesh isn't very durable—we have to tape over holes that were forming after only a few uses, as well as fix other imperfections in the mesh with patches of fabric and tape." -Janna

"The main reason why I like this product is its portability. You can easily fold it up and move it around the house or outside without any hassle at all! It also comes with mesh sides which protect your baby from insects like mosquitoes while they play outside during summer months (which is great because mosquitos can carry some serious diseases like malaria). This product has wheels too, which makes transporting it even easier!"-Mei  
Juni June 6 Sided Deluxe Fabric Play Yard with Play Mat
The Juni June 6 Sided Deluxe Fabric Play Yard with Play Mat is large and offers a comfortable place for two babies and one adult. This  is made of durable fabric with metal supporting poles and non-toxic materials that are safe for babies.  
It is light and easy to store, for you can easily fold it and store away. You don't need to worry about hygiene, for it is easy to maintain and clean simply with a damp cloth or a vacuum cleaner!
Features
Possibly the best 'legless' fabric play yard in the world
Includes a matching, fitted and soft padded play mat
Huge see-through mesh panels on all sides for easy two-way visibility and better air circulation
Soft mesh panels protect babies even when they stumble
Ultra large play area, spacious even for 2 babies and an adult!
Non-toxic, BPA free, PVC free & Lead free
Pros and Cons 
Pros
Extra safe as it sits directly on the floor with 'no legs'
No weight limit so join in with your baby for a fun time!
Crafted in beautiful, bright & durable fabric
Safe & sturdy structure
Folds away for compact & easy storage
Super easy to maintain & clean with a quick vacuum and damp cloth
Washable & matching soft padded Play Mat that secures to the play yard for safety
Cons
Slightly more expensive than others of its kind
Not as colorful as other brands' play yards (but it does come in multiple neutral colors)
Juni June 6 Sided Deluxe Fabric Play Yard with Play Mat: Reviews from Parents
"The June 6-Sided Fabric Play Yard makes for a great place for babies to play! my little one will love it. Its soft, fabric walls make for a safe, cozy space that's perfect for playtime, naptime, or just about any time. The play yard is quite large and feels roomy even when it's full of toys." -Sana

"This play yard is extremely portable. With collapsible sides that makes it easy to transport from room to room or outside on nice days. It's also large enough so I can join my kids while playing" – Jill
Get it at the lowest price here.
Shop the Best Play Yards in Singapore
We hope this guide helps you on choosing the best play yard for your little one! Remember moms and dads that it all boils down to each parent's needs. Understand your own requirements and expectations, and find a play yard that fits those or go for a play mat. In any case, it is important to choose something that you and child are comfortable with.
If you are looking for the best play yards, Supermom is the best place to shop! Supermom partners with the largest marketplaces in South East Asia and brings parents millions of products on 1 single platform. No more comparing products, brands and prices across different shopping sites. Leverage on welovesupermom.com to find products and compare prices. Shop for largest collection of play yards and playpens now at welovesupermom today!
Check out other essential parenting buying guide
Baby Bath Toys for Exciting Bath Time: Best Prices in Singapore [2022]
7 Best Baby Carriers and Slings in Singapore: Reviews & Where To Buy (2022)
9 Best Baby Cots to Buy in Singapore: Reviews and Best Deals (2022)
SuperMom is the Preferred Partner of Made for Families