9 Things You Should Know about your Child's Gut Health & Immunity!
How do I know if my child is crying due to stomach discomfort? How can I support my child's immunity if he falls sick often?
Concluding the three part series on Probiotics, SuperMom Expert Dr Dave Ong answers 9 commonly asked questions from our mummies and provides his advice on our children's gut health, immunity and probiotics!
If you've missed earlier parts of the video, don't forget to check it out Episodes 1 and 2 to learn more tips!
Maintaining a healthy gut is simple! Besides a healthy diet, supplementing your kids' diet with probiotics daily can help support your child's immunity. Don't forget Dr Ong's tips to look out for the type of probiotic strains (Bifidobacterium preferred!) and added additives such as 2'-FL and Vitamin D in your probiotics to better help our children!
For your children's probiotics needs, SuperMom is proud to introduce Biostime – our official Probiotics Partner for Supermom Expert Series!
Made in France, Biostime is the World's No.1 Brand of Children's Probiotics Supplements*. Biostime Probiotics is specially formulated with 4 probiotics strains (including Bifidobacterium), and enhanced with 2'-FL, to support our children's digestive health and immune system. With no added sweeteners or flavours, Biostime comes in convenient pre-measured powder sachets which can be added to any beverage or liquid food. You can find out more here: https://biostime.com.sg/.
For now to 11 May, enjoy 25% off on Biostime Probiotics with 2'-FL at Guardian!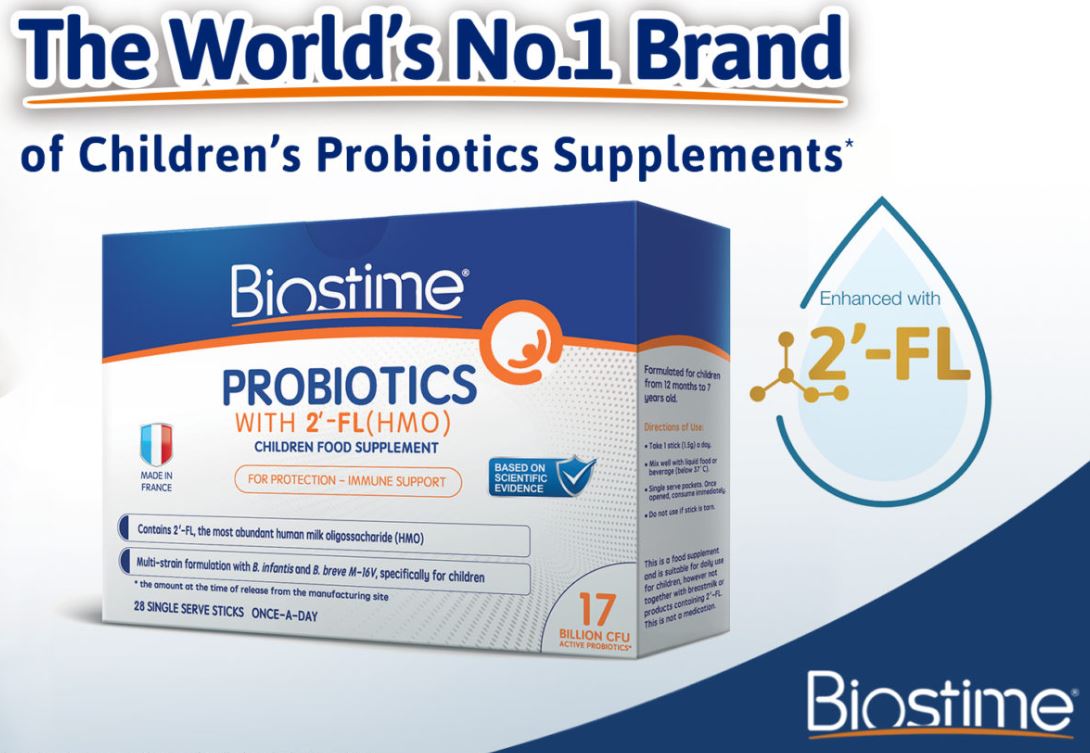 Tags: #SuperMomExpertSeries #SuperMomSG #WeLoveSuperMom #BiostimeSG #Probiotics
* Source: Euromonitor's research findings as generated via desk research and trade interviews, measured in terms of retail sales value in 2017 and 2018
^the amount at the time of release from the manufacturing site